Display Your Credentials.
Prove Expertise.
Stand Out.
Earn your DARTdrones Wings.
register today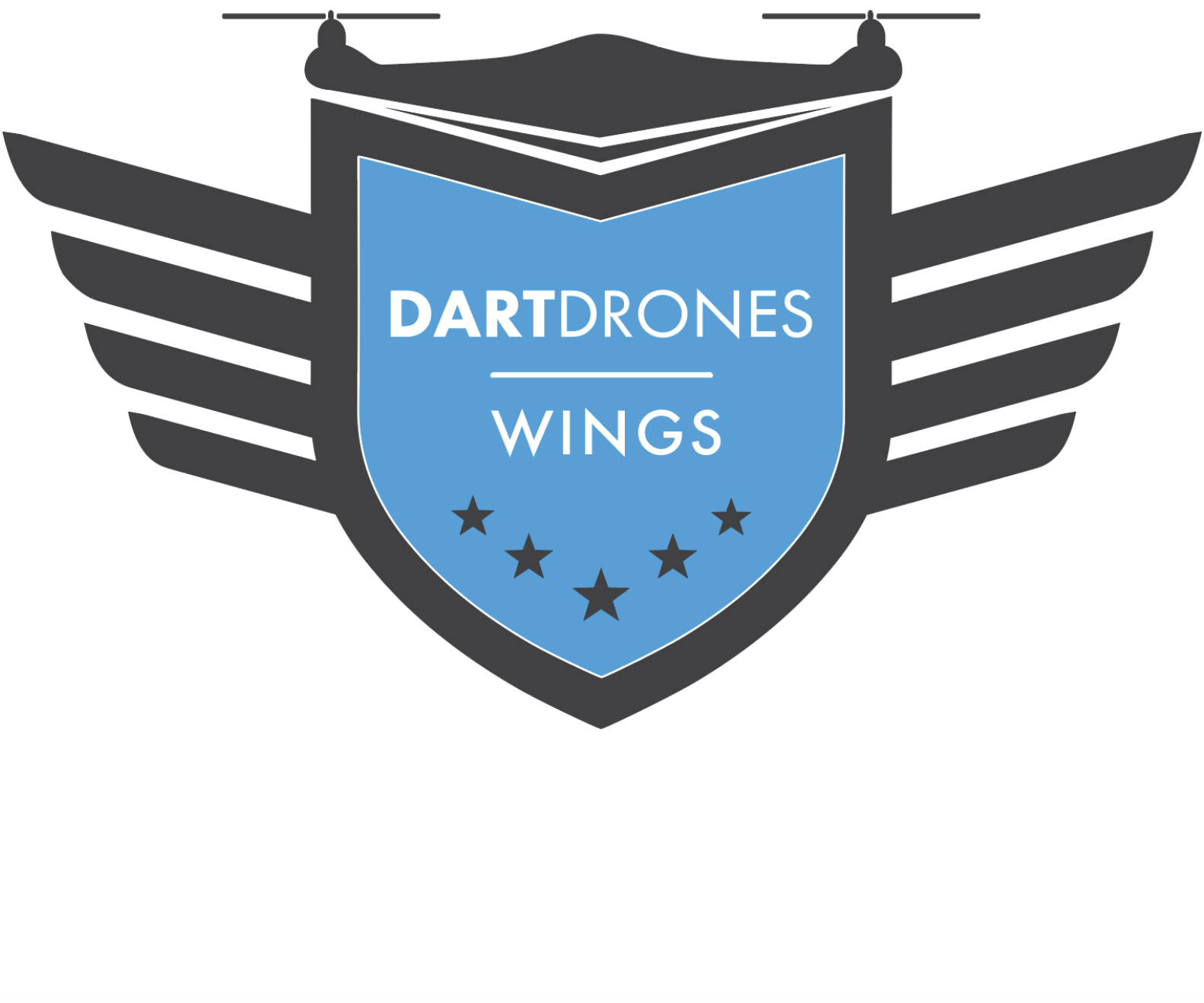 The DARTdrones Wings Program
A nationally recognized credential showcasing a comprehensive baseline of knowledge and areas of expertise.
National Recognition.

DARTdrones has developed extensive curriculum and trained 14,000+ pilots across the country. The DARTdrones Wings have set a standard for drone pilot proficiency.

Real World Training.

Through interactive online courses, real world scenarios and assessments, DARTdrones Wings pilots prove their ability to launch successful sUAS missions.

Credentialing System.

Drone pilots can easily display their qualifications through a simple, industry-accepted credentialing system.

Industry Certification.

The DARTdrones Wings curriculum has been certified as Level 1 training for the AUVSI Trusted Operator Program™.
Earn Your DARTdrones Wings
Two Ways to Complete Your Wings
For Pilots With Flight Experience & Part 107
$ 399
Just take the Real-World Flight Planning and Execution Program to earn your Wings
Step 1: Complete Online Flight Assessment

Step 2: Upload your Part 107 Remote Pilot License

Step 3: Complete the Real-World Flight Planning and Execution online courses
For Beginners Just Getting Started
$ 1649
Complete the Professional Drone Pilot Package in 3 easy steps to earn your Wings
Step 1: Complete DARTdrones Drone Pilot Training Course

Step 2: Complete DARTdrones Part 107 Test Prep Course

Step 3: Complete the Real-World Flight Planning and Execution online courses
Once you've earned your Wings, add DARTdrones Endorsements
DARTdrones Endorsements are a nationally recognized credential showcasing areas of expertise. View our Endorsements below:
Roof Inspections

A 2-day, advanced workshop teaching students how to safely and effectively maneuver their aircraft in order to gather and analyze the data necessary for a successful inspection.

buy now

Mapping & Modeling

A 2-day, intensive workshop with hands-on experience to learn how to effectively collect, analyze and export high-quality mapping and modeling data for commercial use.

buy now

Disaster Response

Our Disaster Response Drone Training is an interactive online course that covers the challenges of a disaster zone, vital operational factors, the Incident Command structure and more.

buy now

Night Operations

Get prepared to fly your drone at night with our interactive, online Night Flight Drone Training course.

buy now

TOP Level 1

After completing your DARTdrones Wings, earn your AUVSI Trusted Operator Program Level 1 Certificate simply by paying a $250 certification fee.

buy now

TOP Level 2

After completing your TOP Level 1 Certification, earn your TOP Level 2 Certificate by completing a one day in-person course and hands-on flight assessment.

buy now
Why Train with DARTdrones?
45

Flight Instructors

40+

Cities Nationwide

11,000+

UAS Instruction Hours

10,500+

Pilots Trained!
Your questions. Our answers.