Real-World Flight Planning and Execution Program
14 scenario-based e-learning courses take you through interactive sUAS flight issues and emergency scenarios to get you ready for real-world missions.
14 Online Courses | 8+ hours of content
$ 399.00
Material used to train companies such as
Reduce Risk and Ensure the Safety and Success of Commercial sUAS Operations.
Gain access to 14 expert e-courses to experience real-world flight issues and scenarios, so you're ready for successful sUAS missions. Our Real-World Flight Planning and Execution Program is an extensive scenario-based e-learning program which will prove that you and your team of pilots are safe, competent, and have a standardized level of knowledge. These courses are Step 3 of DARTdrones Wings Program.
Register Now
Real-World Flight Planning and Execution Program
Course Curriculum
Course 1

Real-World Airspace Scenarios

Airspace Classifications, Controlled Airspace, Uncontrolled Airspace, Prohibited and Restricted Areas, TFRs, LAANC Authorizations, AirMap

Course 2

Real-World Weather Assessment

Forecast Sources, METARs, TAFs, Visibility, Clouds, Sky Condition, Precipitation, Wind, Temperature, Part 107 Requirements, Go/No-Go Decision Making

Course 3

Site Assessment

Hazard Identification, Satellite Imagery, Flight Planning, Manmade Structures, Terrain Variations, Natural Obstructions, Low-Level Turbulence, Interference

Course 4

Risk Assessment and Management

Risk Management, Hazard Identification, Historical Data, Risk Matrix, Likelihood of Risk, Severity of Risk, Risk Mitigation, Pilot Considerations, Customer Expectations

Course 5

Equipment Care and Maintenance

Manufacturer Recommendations, Preflight Inspections, Post Flight Inspections, Flight Logs, Aircraft Logs, Patterns of Wear and Tear, Maintenance Protocols

Course 6

Battery Care and Safety

Battery Types, Capacity, Specifications, Charge Cycle, Discharging, Maintenance, Damage, Disposal, Storage, Flight Regulations

Course 7

Building Custom Checklists

Considerations, Customizations, Implementation, Flight Planning, Preflight, Crew Briefing, Flight Execution, Emergency Procedures, Post Flight, Maintenance

Course 8

Emergency Procedures Response

Prevention, Emergency Responses, GPS Signal Loss, Datalink Interference, Compass Errors, Flyaways, Hardware and Software Failures, Battery Issues, Collisions

Course 9

Overcoming Disorientation

Prevention, Disorientation Responses, Practice Maneuvers, Close Range Line of Sight, Medium/Long Range Line of Sight, First Person View

Course 10

Understanding Aviation Communications

Types of Communications, CTAFs, Scanners, Transceivers, Standard Format, Common Conventions, Traffic Patterns, Aircraft Position

Course 11

Visual Observer and Crew Best Practices

Part 107 Requirements, Roles, Responsibilities, Positioning, Crew Management, Crew Briefing, Communication Methods, Communication Procedures

Course 12

Improving Operational Safety

UAS Code of Conduct
Remote Pilot Responsibilities
Privacy
Mitigating Risks
FAA 'Dirty Dozen'
Communication

Course 13

Flight Principles and Performance

Aerodynamics
Aircraft Axes
Angle of Attack
Turbulent Air
Weight and Balance

Course 14

Air Law Review

Registration Requirements
Responsibility of Remote PIC
Daylight Operations
Hazardous Operations
Crew Regulations
Operating Limitations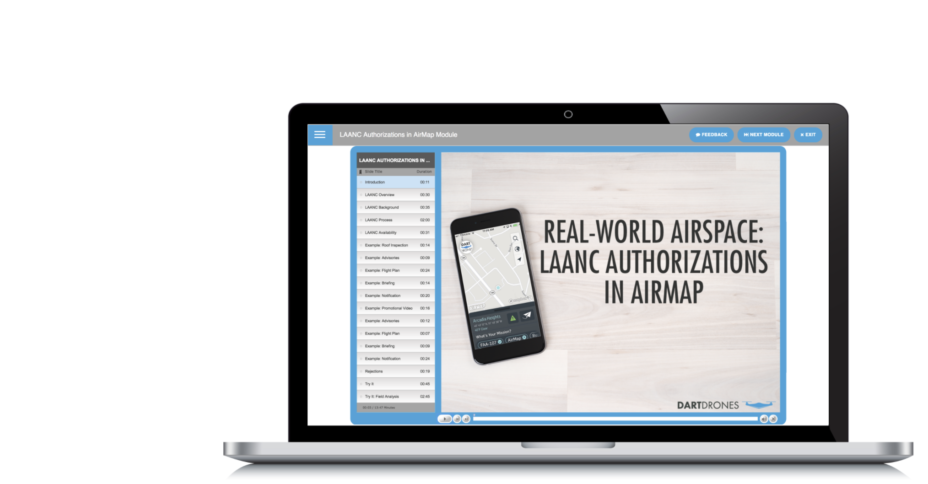 Start Showing Your Expertise Today
Sign up now to activate your online account and gain instant access to all 14 of our online courses. After completing the Real-World Flight Planning and Execution Program, you will receive your DARTdrones Wings.
Or customize your bundle here.
Access Courses Now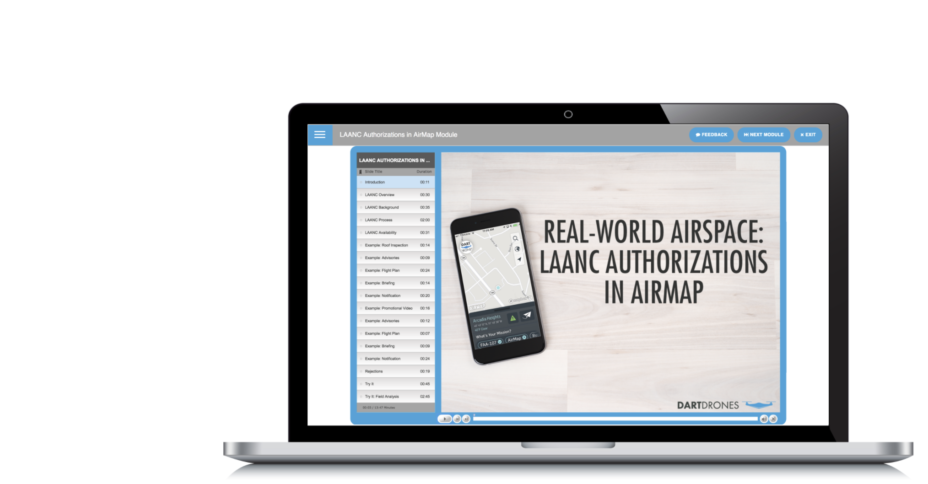 Designed by Top Developers
These courses were built by top curriculum developers and real-world manned and unmanned aircraft pilots. Our Curriculum Team spent months working with a group of our expert pilots to create this comprehensive online learning program.
Jen Milner
Curriculum Developer with a Masters in Educational Technology from Harvard.
Christina Martinez
Commercial pilot and CFII with a Commercial Aviation and Air Traffic Control degree.
Our Nationwide Network of Expert Flight Instructors
Meet a few DARTdrones Flight Instructors who are all manned and unmanned pilots with over 11,000 hours of drone training experience.
Bob Wess
Commercial Pilot and CFI
Roger Hall
Retired Firefighter
Robert Patterson
CFI and Mission Pilot for Civil Air Patrol
Colin Romberger
Embry Riddle Masters in UAS
Jason Miller
Instrument Rated Pilot
Christina Martinez
CFII and Commercial Pilot
Keith Phillips
Blackhawk Helicopter Pilot and FAA CFII
St. Claire Williams
Sniper Team Lead for Atlanta Police
Robert Beck
Experimental Aircraft Pilot and Engineer
Tod Strickland
Navy Nuclear Weapons Technician
Sergio Gemoets
Private Pilot and Photographer
Ryan Walker
Marine Combat Instructor and Pilot
Nick Davis
R.C. and Manned Aircraft Pilot
Juan Jimenez
Multi-Engine Instrument Rated Pilot
Your questions. Our answers.
WE LOVE QUESTIONS!
Let's Talk