Night Flight Package
With decreased visibility and equipment limitations, sUAS night operations take special preparation and execution. Get ready to fly your drone at night with this interactive, online learning program.
3 Online Courses
$ 299.00
Material used to train companies such as
Ensure the safety and success of your sUAS night operations.
Flying in low light conditions adds an additional level of complexity and risk that drone pilots must thoroughly understand before launching night operations. The FAA requires drone pilots to submit a waiver and complete specialized training in order to perform commercial sUAS operations at night. Our Night Flight Package offers comprehensive training on night flight operations and night physiology as well as guidance on obtaining a night operations waiver.
Register Now
Night Flight Drone Training Package
Course Curriculum
Course 1

Night Flight and Physiology

Part 107 Requirements, Night Flight Terms, Night Flight Waivers, Standard Waiver Requirements, Visual Line of Sight, Visual Observers, Lighting, Equipment

Course 2

Visual Observer and Crew Best Practices

Part 107 Requirements, Roles, Responsibilities, Positioning, Crew Management, Crew Briefing, Communication Methods, Communication Procedures

Course 3

Obtaining a Night Flight Waiver & Template

Part 107 Requirements, Night Flight Waivers, Standard Waiver Requirements, Waiver Requests, FAA DroneZone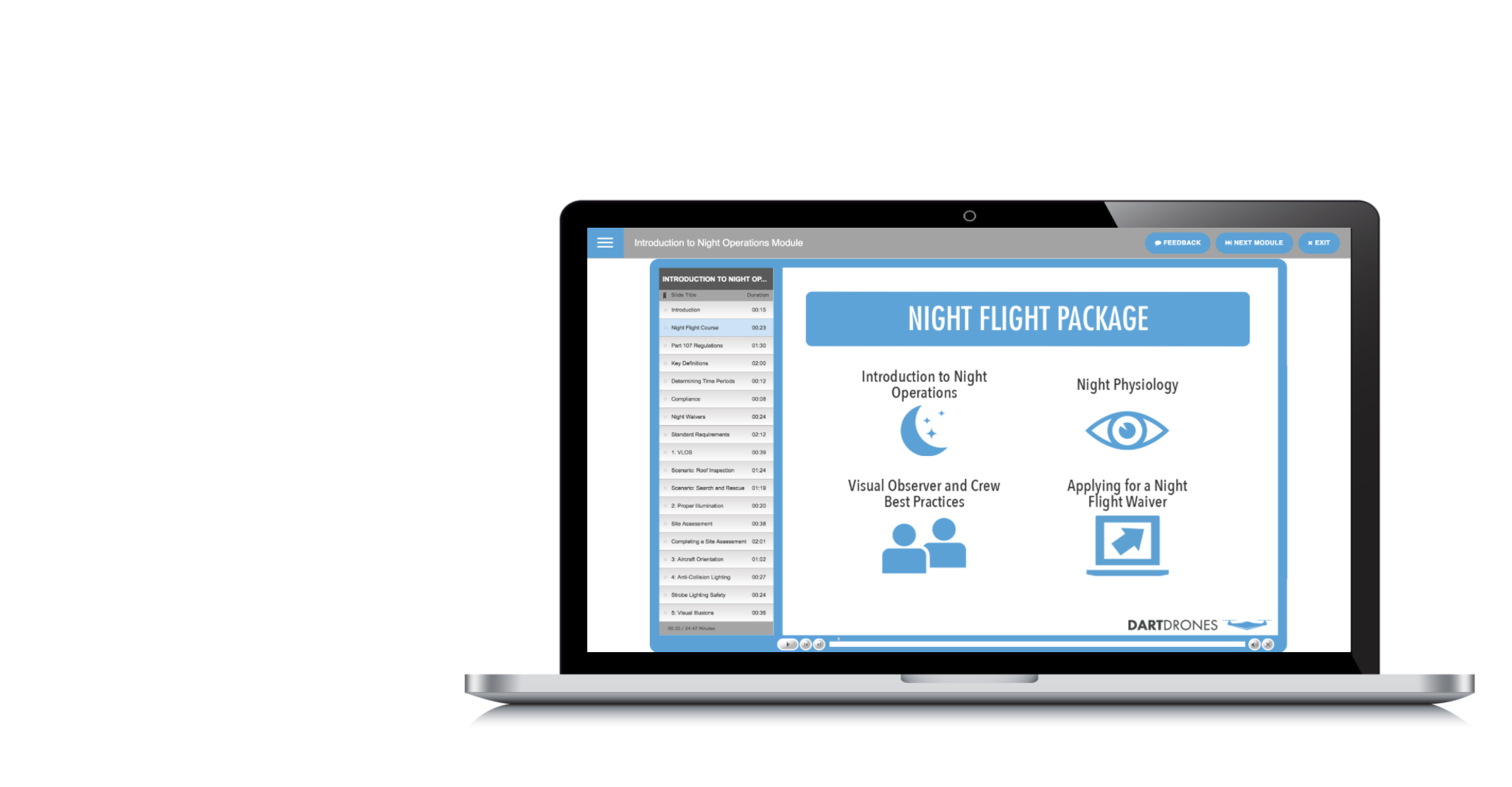 Enroll Today to Gain Access to 3 Expert Courses
Introduction to Night Flight & Night Physiology: Covers the standard requirements included in operational waivers for night flight, eye physiology, and common visual illusions.
Visual Observer & Crew Best Practices: Covers steps to prepare, coordinate, and communicate effectively.
Submitting a Night Operations Waiver: Covers how to request a night flight waiver, tips, and common challenges.
Or customize your bundle here.
Access Courses Now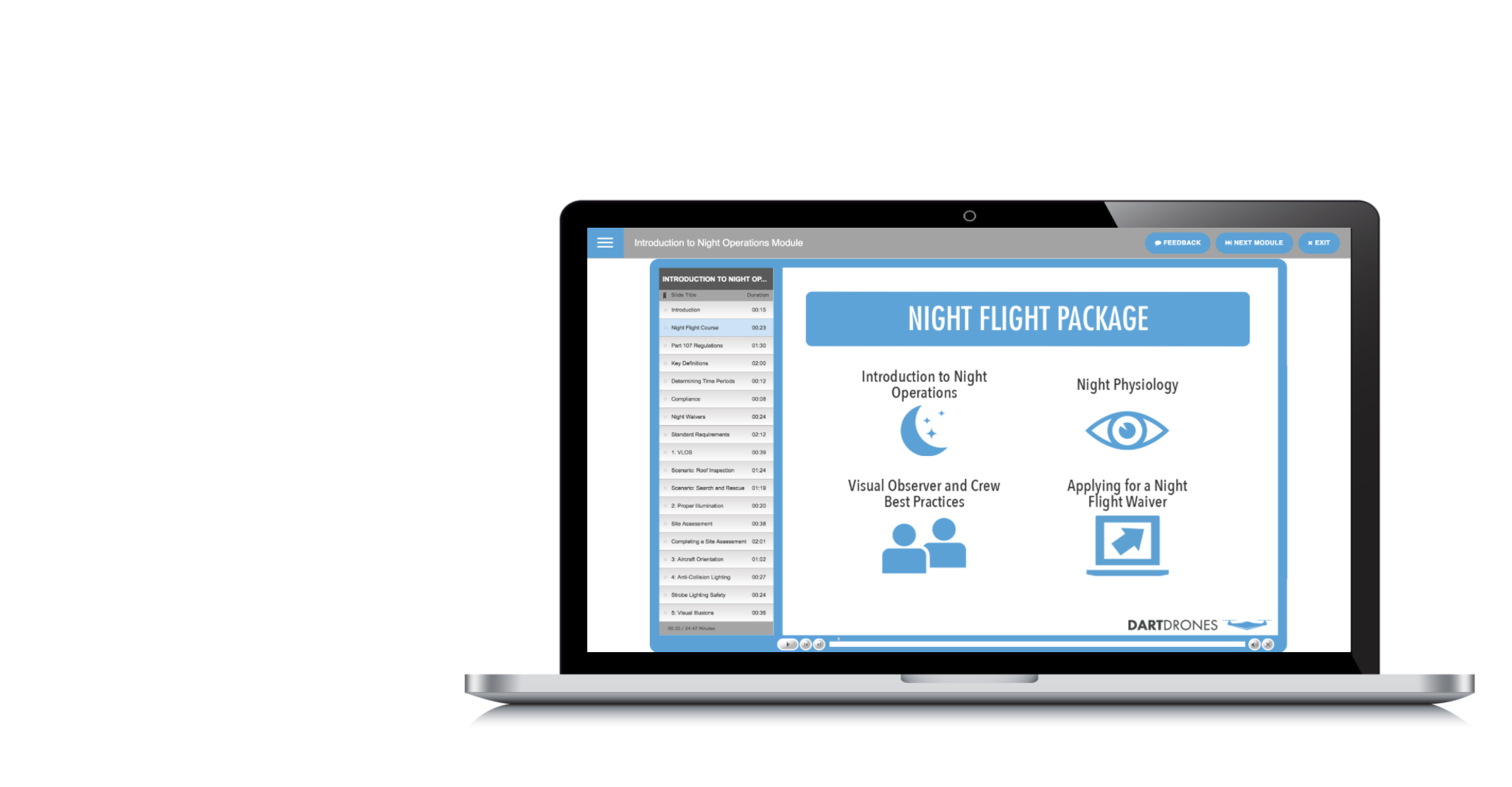 Designed by Top Developers
Our Night Flight Drone Training courses were built by top curriculum developers and real-world manned and unmanned aircraft pilots.
Jen Milner
Curriculum Developer with a Masters in Educational Technology from Harvard.
Mike Uleski
Commercial pilot certificate with single engine, multi-engine and instrument ratings.
Our Nationwide Network of Expert Flight Instructors
Meet a few DARTdrones Flight Instructors who are all manned and unmanned pilots with over 11,000 hours of drone training experience.
Bob Wess
Commercial Pilot and CFI
Roger Hall
Retired Firefighter
Robert Patterson
CFI and Mission Pilot for Civil Air Patrol
Colin Romberger
Embry Riddle Masters in UAS
Jason Miller
Instrument Rated Pilot
Christina Martinez
CFII and Commercial Pilot
Keith Phillips
Blackhawk Helicopter Pilot and FAA CFII
St. Claire Williams
Sniper Team Lead for Atlanta Police
Robert Beck
Experimental Aircraft Pilot and Engineer
Tod Strickland
Navy Nuclear Weapons Technician
Sergio Gemoets
Private Pilot and Photographer
Ryan Walker
Marine Combat Instructor and Pilot
Nick Davis
R.C. and Manned Aircraft Pilot
Juan Jimenez
Multi-Engine Instrument Rated Pilot
Your questions. Our answers.
WE LOVE QUESTIONS!
Let's Talk