Starting a Drone Business Under Part 107
Learn everything you need to know to start your UAS business.
Material used to train companies such as
Starting a Drone Business Has Become a Lot Easier!
Many new drone pilots are taking advantage of the immense opportunities in the drone industry and are launching their own drone business. Get started faster and with a higher chance of success. Learn from our experts exactly how to launch a successful drone business.
Register Now
Starting a Drone Business
Course Curriculum
Lesson 1

Developing Your Drone Business Strategy

Drone Market Analysis
Personal Fit
Competitive Analysis
Identifying a Target Market
Target Market Pros and Cons
Service Offerings
Pricing Strategy
Branding
Choosing a Company Name
Designing a Logo
Developing a Tagline

Lesson 2

How to Find Customers

Digital Marketing
Content Marketing
Search Engine Marketing
Pay Per Click Strategy
Creating Your First AdWords Campaign
Display Ads
Search Engine Optimization
Identifying Keywords
SEO Best Practices and Strategy
Social Media Marketing
Creating a Facebook Ad
Advertising in Newspapers and Magazines
Public Relations Strategy

Lesson 3

Business Operations

Building to Scale
Establishing Your Website
Website Hosting
Web Development Tools
External Phone System
Setting Up Business Emails
Hiring Strategically
Developing a Org Chart
CRM Systems
Project Management Systems
Tools for Internal Communication

Lesson 4

Legal Considerations and Liabilities

Liability for Drone Pilots
Types of Business Organizations
Sole Proprietorships
Partnerships
Limited Liability Companies
Employment Contracts
Copyright Law
Trademarks
Privacy Considerations

Lesson 5

Drone Insurance

UAV Insurance
Insurance vs. Warranty
How Much Insurance Coverage Do You Need?
Why Buy Drone Insurance?
Factors Affecting Coverage
Best Practices
Insurance Options
Warranties
Risk Mitigation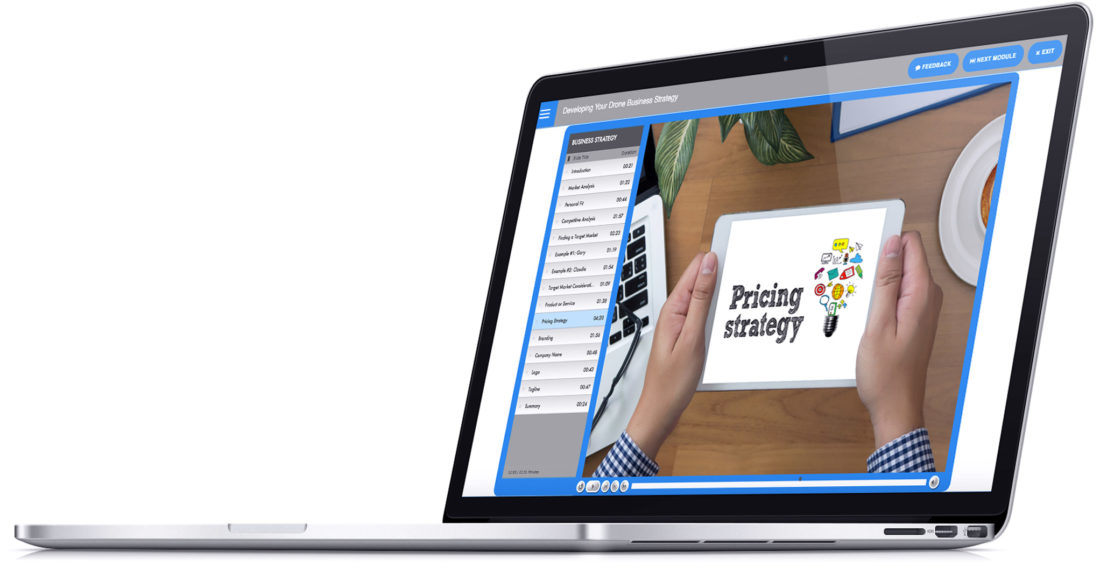 Start Your Drone Business Today
Sign up now to activate your online account and gain instant access to all of our courses included in Starting a Drone Business Under Part 107 for 6 months. Topics include Strategy, Marketing, Operations, Legal Considerations, and Drone Insurance.
Enroll Now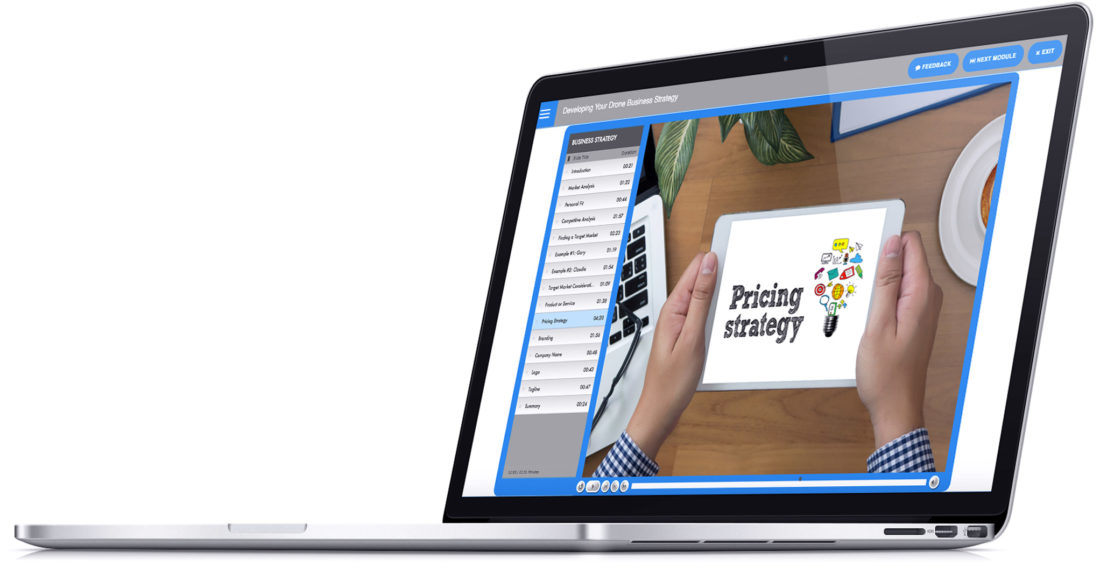 Professional Entrepreneurship Curriculum Development Team
Amelia and Chris spent months learning about the hardships of new drone entrepreneurs to provide the most up-to-date important information to their students.
Amelia Owre
Curriculum Developer for the US Navy's UAS Program
Chris Speicher, Ph.D
Director of Entrepreneurship, Marywood University
National Team of Expert Drone Pilot Flight Instructors
Award winning manned and unmanned pilots.
Bob Wess
Commercial Pilot and CFI
Roger Hall
Retired Firefighter
Robert Patterson
CFI and Mission Pilot for Civil Air Patrol
Colin Romberger
Embry Riddle Masters in UAS
Jason Miller
Instrument Rated Pilot
Christina Martinez
CFII and Commercial Pilot
Keith Phillips
Blackhawk Helicopter Pilot and FAA CFII
St. Claire Williams
Sniper Team Lead for Atlanta Police
Robert Beck
Experimental Aircraft Pilot and Engineer
Tod Strickland
Navy Nuclear Weapons Technician
Sergio Gemoets
Private Pilot and Photographer
Ryan Walker
Marine Combat Instructor and Pilot
Nick Davis
R.C. and Manned Aircraft Pilot
Juan Jimenez
Multi-Engine Instrument Rated Pilot
Starting a Drone Business
FAQs
WE LOVE QUESTIONS!
Let's Talk