In-Person Aerial Photography & Videography Drone Training
Maximize your skills and add value to any business by producing high-quality aerial photos and videos. Learn what it takes to make your aerial shots stand out in this intensive one-day drone training course.
In-Person Course
$ 375.00
Trusted by organizations such as
Aerial Photography and Videography
Course Curriculum
Lesson 1

Intro to Aerial Videography

Why use Drones?
Common Uses
Flight Process
FAA Considerations
Local Considerations
Crew Roles
Pilot Skills
Drones 101 Review

Lesson 2

Aircraft and Camera

Choosing Your Platform
Common DJI Platforms
Why DJI?
Inspire 1 & 2: Specs
Inspire 1 & 2: Pros & Cons
Phantom 4 Pro: Specs
Phantom 4 Pro: Pros & Cons
Mavic Pro: Specs
Mavic Pro: Pros & Cons
Cages and Propeller Guards
Mavic Air: Specs
Mavic Air: Pros and Cons
Scenarios
Camera Options
Choosing a Camera
Zenmuse Options
Micro Four Thirds
Zenmuse X5 Lens Options
8MM Lens
15MM Lens
45MM Lens
Choosing Lens
Gimbal Balancing
Neutral Density (ND) Filters

Lesson 3

Aerial Photography Settings

Photo Settings
Types of Photos
Image Size (Aspect Ratio)
Image Format
White Balance
Kelvin Scale
Style
Color
Understanding a Histogram
Adjusting Shutter Speed
EV (Exposure Value)
Variable Aperture (IRIS)
F-Stop
Depth of Field

Lesson 4

Aerial Videography Settings

Video Settings
Choosing Video Size
Frame Rates
Video Format
Video Standards
Color Settings
Normal VS D-Log
D-Log Post-Processing
Controller Settings
Gimbal Tuning
Gimbal Pitch Speed
Gimbal Pitch Smoothness
Gimbal Roll
Aircraft Response Settings
Aircraft Exp Settings
Sensitivity Settings
Gain Settings

Lesson 5

Standard Aerial Shots

Shot List
Rise and Reveal Flight Path
Descending Approach Flight Path
Rising Retreat Flight Path
Rising Retreat Example
Tracking Flight Path
Orbit/Half Orbit
Orbit Flight Path
Panning Flight Path
Tilt
Fly By
Sliding
Fly Over
Bird's Eye
Fly Through
JIB
Stationary
Common Mistakes
Scenarios & Examples
DJI Intelligent Flight Mode List

Lesson 6

Preparation & Post-Production

Preflight Planning Items
Airspace
Controlled Airspace In Airmap
sUAS Weather Limits
Other Online Sources
Site Evaluation
Area Layout
Submitting a Waiver
State/Local Regulations
Onsite Assessment
Weather
Hazards
Takeoff/Landing Points
Creatively capture professional and cinematic drone shots.
Are you a current or aspiring drone pilot looking to learn new skills that will make your work stand out? Our intensive one-day Aerial Photography and Videography course will teach you how to produce professional and cinematic drone photos and videos. Throughout this in-person drone training, our expert instructors who are all manned and unmanned pilots, will provide both classroom training and an outdoor demo to get you prepared to launch successful photography and videography missions. After the in-person course, all students will receive full access to DARTdrones Online Aerial Photography course. This is not a flight training class and our instructors will not cover how to fly a drone, take off, land, etc. If you are interested in learning how to fly a drone, check out our hands-on Flight Training course.
View Available Classes
Upcoming Classes
Looking for a course near you? Reach out and let us know where our next course should be held.
Request a Location
Our Aerial Photography and Videography Flight Instructors
Our instructors use their real-world experience to help you succeed as a professional drone pilot.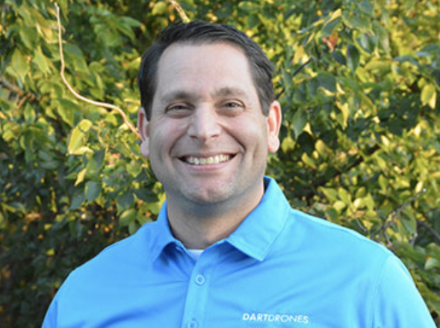 Jerry White
Jerry has his own video production company and has been in the business for more than 20 years. When he's not shooting videos or flying sUAS, he flies as a contract pilot for different clients in Central Texas. He has 3,000 hours of flight time and has been a flight instructor, full-time corporate pilot, and an airline pilot.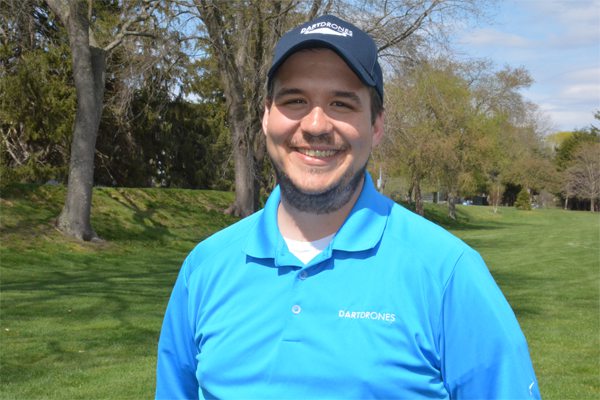 Colin Romberger
Colin is a both a private pilot and advanced ground instructor, and holds a Master's Degree in UAS Design and Operations from Embry-Riddle Aeronautical University. He has been building and flying R/C aircraft for over 20 years, and currently owns and operates a drone services company in Pennsylvania with a focus on mapping and inspections.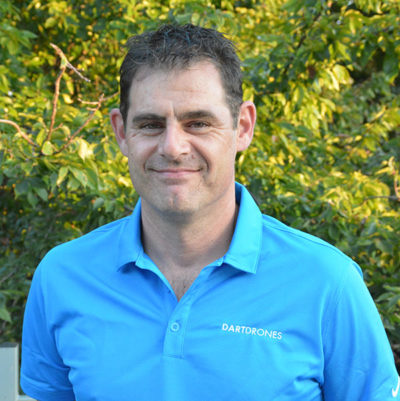 Alex Abatie
Alex brings over 20 years of experience as a photographer and design director to the commercial drone industry. He owns and operates Hawkeye Workshop, an aerial photography company serving the film, real estate, and construction industries in Southern California. He also holds Sport Pilot and Remote Pilot certificates from the FAA.
Aerial Photography and Videography Drone Training
FAQs
WE LOVE QUESTIONS!
Let's Talk